About Freedom Outreach Ministries
At the age of 65, Pastor Cliff Evans founded Freedom Outreach Ministries in 1980. While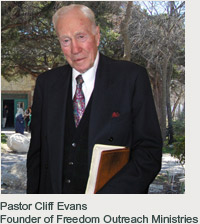 pastoring a church, Cliff visited the family member of one of his church members that was in prison. After visiting this person and seeing what it was like being behind bars, Cliff's heart was stirred with compassion for those incarcerated.
Within time, Cliff resigned as pastor and entered into full-time prison ministry. He spent his time holding weekly church services in the prisons and teaching Bible studies to the inmates. His wife, Aletha, and daughter, Sharon, traveled with Cliff to attend the church services. Aletha played the piano and both, Aletha and Sharon ministered in music.
He loved the inmates, and they loved him. He continued with Freedom Outreach for 25 years. His last teaching occurred in 2005, two weeks before he passed away at the age of 90.
Pastor Cliff had heart surgery in 1994 and following his recovery, was needing someone to accompany him. Pastor Melvin Gipson agreed to go a few times, but after the first time, Pastor Mel's heart was filled with compassion for these men, just as Pastor Cliff's was.
Mel began to travel with Cliff in 1995, traveling many miles each week to teach, preach and minister to the men in prison. They both shared the same heart for these men and after Pastor Cliff's death, Pastor Mel became the president of Freedom Outreach Ministries.
Pastor Melvin Gipson had also pastored a church at the beginning of his ministry, but he felt the call of evangelism and resigned to travel and preach at revivals and crusades. He did missionionary work for many years in Mexico, has done street evangelism in many areas of Dallas, and has helped in pastoring a church in Dallas, Texas for 19 years.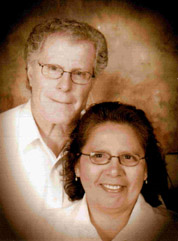 Pastor Mel continues to carry the mantel that Pastor Cliff handed him, a legacyof love for the incarcerated. He travels to prisons every week to teach Leadership and Life Application classes to the inmates. He is joined by his wife, Pam, when conducting church services. They both cherish the opportunity to go and share the Gospel of Jesus Christ with the men and women in prison.
Existing facilities in Texas include the Beto Unit, the Michael Unit, Michael Trusty Camp, Gurney Unit, Walls Unit, Eastham Unit, and the Hutchins Unit. Services offered by Freedom Outreach include regular church services (Pam sings), leadership training classes, Overcomers 12-step classes, and Voyager classes (life application — personal and family issues).