Overcomers Recovery Support Program
The Overcomers Recovery Support Program was established in 1985 by Charles and Sharon Burton. Overcomers is a faith-based, Christ-centered, 12-step recovery program, which was patterned after the Alcoholics Anonymous' (AA) 12-step program.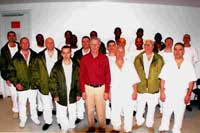 Overcomers emphasizes the solution rather than the problem. In most secular programs, in each weekly meeting you talk about your problem. Secular programs teach you how to stay sober. The Overcomers program goes past that and teaches you how to live. We identify the problem in week one and spend the remaining time discussing the solution — Jesus Christ. The Overcomers Program is also available outside of prisons. A list of Overcomers classes can be found on the Overcomers Program website, recoverysupport.org.